Workplace conflict is surprisingly common. Some studies have found that 70% of people experience workplace conflict. Other studies report even higher rates of up to 90%. This is alarming when many of us spend the majority of our lives at work.
No one wants to feel uncomfortable going in to work each day. It is therefore extremely important to get along with your boss and colleagues.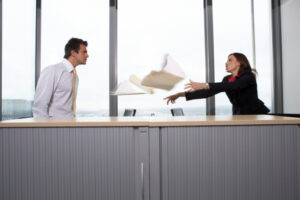 So what are some ways of overcoming workplace conflict? First we explore the causes of workplace conflict. Second we explore how to overcome workplace conflict and create more harmonious workplace cultures.
What are the most common causes of conflict in the workplace?
There are many causes of workplace conflict. Some of the most common include:
Miscommunication – misunderstandings or misinterpretations of what has been said
Relationship issues – people not getting along due to different personalities or styles
Leadership style – mismatch between the way a manager managers and the way an employee wants to be managed
Work expectations – people feeling that expectations are unfair or unreasonable
What are the biggest "pet peeves" from bosses?
It really depends on the boss and the organisation. Here are some common complaints from bosses:
Employees not getting job done – time-wasting, inefficiencies or ineffective processes
Not behaving according to the culture and values of the organisation – lack of collaboration or team orientation, self-focused
Personal issues affecting work – although there is a recognition these days that people are not robots and we cannot turn off a switch and leave our emotions at home
Absenteeism­ – people having time off without legitimate reason
Complaining – bosses get frustrated when people constantly complain rather than getting on with the job
What are employee's biggest "pet peeves" about the boss?
Employees often get frustrated with bosses in the following circumstances:
Un-clear expectations – not having clarity on expected tasks or roles
Micro-management – not feeling trusted, no autonomy or freedom
Bosses not addressing the issues – feeling unsupported or unheard when the boss fails to act on a concern
Not feeling challenged – menial or repetitive work, without career development
What are your top tips for bosses?
Bosses can employ a number of strategies to create more effective and harmonious workplaces. Some of these include:
Set clear vision, values and goals
Outline roles and tasks – what and when
Give feedback, seek feedback
Develop rapport with staff
What are your top tips for an employee?
Each boss is different and may have different requirements. These are some of the strategies employees or staff can employ to improve their experience at work:
Show commitment to the job / organisation
Get the job done
Behave according to the culture
Be upfront when issues arise
Think outside the box / value-add
What Are Some Tips for Overcoming Conflict?
Conflict in the workplace is inevitable. However, there are a few strategies to assist you overcome your differences with your boss and co-workers:
Self-awareness – increase your awareness of your own behavior and responses and the impact it can have on others
Taking responsibility – for your contribution to the issues
Empathy – Putting yourself in the other persons' shoes
Speak up / Take action – to resolve the issues as soon as possible rather than avoiding them.
Workplace cultures can be transformed through leaders implementing a few simple strategies that help employees feel more comfortable in the workplace. Effective strategies improve staff engagement leading to higher performance, satisfaction and commitment to the organisation.
If you would like to watch a clip on Channel 7's, The Morning Show with Caryn Cridland speaking about improving workplace culture and overcoming conflict, watch the video below!