Dear Nelson,
I am writing to you as I have heard of your passing. The tears I cried in hearing this news, was for you personally, to finally be free of your suffering, and also for all of humanity to have lost, in my view, the greatest human being who ever lived.
Few human beings (thankfully) have ever had a story that comes close to your trials and torments. And even fewer have risen, not only to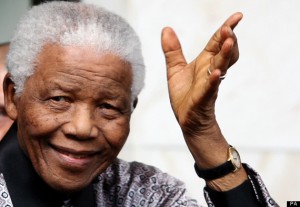 survive the greatest challenges known to man, but to have demonstrated in actions, not just words, compassion, forgiveness, hope and love, despite your suffering at the hands of injustice.
When many of us would have felt hatred, rage, contempt, and sought revenge, you showed the world acceptance, tolerance, understanding, and peace.
Nelson, to say I admire you is an under statement. To say you are an inspiration falls short. To say you are super human doesn't even come close. In fact, there are no words to describe how I feel about you.
What you have done for South Africa, and for all of humanity is immeasurable. Your legacy will always live on.
As a leader you have shown us that true leadership is about how we feel, and how others feel, and what is in our hearts and souls. This is what moves and mobilises people. Not just good reason and policy.
True leadership is about is all of us – what will be best for all. Despite your personal suffering, you focused on the future, and what was best for South Africa, your country, and all of your people, regardless of the colour of their skin.
As a human being, you have shown us how to take personal responsibility in the face of anger, fear, shame, and resentment. You have shone a light on the excuses we human beings sometimes make for poor behaviour. ("She or he did this, or said that, and so I retaliated").
You also showed us how to consider multiple perspectives, even when other perspectives can harm.
I am in deep gratitude for having walked this earth at the same time as you. And for having been born South African, for it is you that gives me pride to say so.
On my last visit to South Africa last year, I could feel the intensity of emotion in South Africa that is missing in many countries that I have travelled.
The intensity of the full spectrum of emotion – the hatred, contempt, resentment, grief, fear, and rage, side by side with compassion, forgiveness, connection, joy, love, and hope.
It is hard to describe this juxtaposition of emotions I encountered. I truly believe that all of South Africa owe it to you. South Africa still could have still been bleeding from the heavy wounds it has suffered, and in many ways, it still is, but alongside the pain, are the intensely rich and beautiful emotions that many countries have not experienced to the same extent, as they have simply not suffered to the same extent.
You have shown me the beauty of pain and suffering for the promise of acceptance, compassion, connection, hope and love.
With the highest admiration, gratitude, and love, I bow to you Nelson,
Caryn