In the week honouring nurses, Nurses Week 2014, I wish to thank all the nurses out there that care for patients around the world. Without them, a lot of sick people would suffer much more than they already do.
This is a special week. It has me reflecting with pride on the achievement of my own mother, who won nurse of the year award last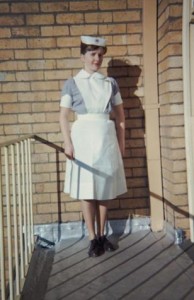 year at the hospital where she still works. Her nursing career began in 1966! Still engaged and passionate after all those years!
It also has me reflecting on some recent events in my life. I was personally touched recently after an expected week spent in the Intensive Care Unit of a hospital in Sydney. There I witnessed the incredibly high level of care from highly skilled doctors, specialists, and nurses that intensive care patients in Australia are blessed with.
I was unfortunately at the hospital holding the hand of my mother, sometimes seven hours a day, who lay still on life support, after undergoing open heart surgery and suffering numerous complications.
It was an incredibly scary week. I tried to keep my mind focused on her recovery but thoughts kept coming into my mind that maybe she wouldn't make it. I held her hand to give her the strength she needed to keep fighting.
During this time I was able to watch a number of highly skilled and experienced intensive care nurses in action. On the whole they were all great. There were two in particular that I watched that were exceptional.
I was so impressed by these two nurses' level of care and the way that they treated my mother while she was "unconscious." That in the weeks following I have thought of them often.
I believe that the way they carried out their roles could benefit all professionals, who are working closely with people.
What I witnessed these nurses doing was speaking to my mother when performing any action, from removing or inserting a needle or tube and so on.  "Now, (using her name), I am just going to remove this tube from your neck," or "(Her name) I am going to shine a light in your eyes very briefly."
Some may say, what was the point? She was "unconscious." And I noticed some nurses not explain to my mother what they were doing later on in her treatment when she was "semi" or "fully" "conscious".  I felt safe leaving my mother with the nurses that helped preserve her dignity, and showed her respect when she was at the most vulnerable time in her life since her birth.
I felt unsafe leaving my vulnerable mother with nurses who did not show the same courtesy.
What is a most interesting twist to the story is that when my mother first became "conscious" or "semi-conscious", the first thing she did was asked me a question about something I had told her while she was "unconscious." This information was new and had only occurred while she was "unconscious." She had no way of knowing the information, except if she had heard me while "unconscious."  This only adds to the passion with which I write these words.
It is very important, essential in fact, to speak to and support our clients, our patients, our family members and friends, even when "unconscious."
I believe what I witnessed from those two nurses will enhance my role as a professional.
I have always subscribed to being transparent with the processes and techniques I have used with clients, but never have I seen a clearer demonstration of why and how it relates to preserving client dignity and building client relationships.
As we develop our skills as professionals, our methodology can become second nature, and we can sometimes forget there is a person sitting in front of us that may be unfamiliar with how we work, what we do, and why we do it. This is an essential part of our role as professionals and carers, even when our clients or patients are not able to vocalise their confusion, or do not seek to know what we are doing during our sessions with them.
All, or at least most, professionals who work with people are trained in similar ways to their colleagues – whether they are nurses, doctors, psychologists, psychiatrists, counsellors, coaches, mediators and so on.
What stands out over and above the role of "nurse" or "coach" or "psychologist" or "mediator" is how professionals preserve the dignity of the people they are working with – their patients, or clients. How professionals show the upmost respect and preserve their clients dignity is to engage with them as human beings, not as "patients" or "clients", by being transparent and humanistic in their approach at all times. Seeing each individual as an important individual, rather than a case.
I am very happy to say that while my mother remains in hospital, it looks like this may be the last week. She has fought hard on the other end of the nurse patient relationship.
Thanks again to all those wonderful nurses out there, those that have looked after my mother, and those who look after millions of other people around the world. And a special thank you to those who stand out from the rest!