The title of this article is probably opposite to what you think the article is going to be about. How many times have you heard people sarcastically saying this to others, maybe even you, when you seem self-focused or selfish?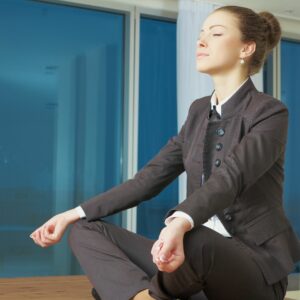 While these words are often said together sarcastically, there is something very real and true about these words.
As you may have noticed, I have been quiet these last few weeks. My head has been down preparing for presenting at conferences, interstate travel to clients, creating new training courses, expanding Mindful Mediation to include a new CEO and 6 consultants. (Welcome to all of you!) I have also started a new wonderful relationship, and moved house. It has been a very, very busy time. A few chapters have closed and others have opened. These last few months have been an emotional roller coaster.
What has kept me going through this time has been my commitment to myself, honouring myself each day before I do anything.
I have a great routine, which combines Qi Gong, Yoga, and Meditation. I feel nothing less than great when I do my what my partner calls "She-ber-ring." The days seem to flow. I have endless energy, my mood is positive, even uplifting on most days. I feel very connected and drenched in love.
During this busy period I stayed on course each day no matter what was planned for the day. Some days I did shorter sessions to accommodate my schedule, others I luxuriated with hours of self-worship.
That is, until last week. The week I moved house. This week was different. Anxiety built up in my body about getting it all done while running a busy consultancy. So I told myself packing boxes and carrying them up and down stairs was enough "exercise" and that She-ber-ring would have to stand aside.
The results were amazing. I am a living breathing experiment on the importance of self-worship.
In just a week I noticed my energy levels dropping significantly, from bouncing out of bed before 6 am to feeling like a teenager dragging one eye open at 7.15 am. I felt exhausted most of the day and found myself at times fantasising about raw cacao to boost my energy levels to get me through.
My mood also changed considerably, the many positive things that happened in the last week were hardly registered. I even heard myself saying "life is tough." I felt disconnected from friends and family, despite a huge level of support from both with the move. That seems crazy!
Now I don't drink coffee so there was no help with energy lifts from caffeine. I also don't drink alcohol anymore so I didn't numb away the pain with a few glasses of champagne, despite being offered some Veuve Clicquot on Sunday night by my sister-in-law. I would have jumped at the chance a year ago.
I did, however, have some temporary relief and sensory enjoyment from the bricaderos, a raw Brazillian dessert my partner made on Monday! I find it hard to pronounce but very easy to eat!
It seems strange to have felt all this emotional pain last week. Particularly given the previous weekend was my birthday weekend and it was the most special weekend on record from start to finish. I spent the whole weekend with the people I love, doing the things I love to do. I felt so alive, so cherished, so loved, so connected.
What a change last week was. How could all this happened in a week? What went wrong so quickly?
These two people I have described sound and feel like two different people!
They are! And they live inside me. It seems scary to think about it. The great news is that I can choose which one comes out to play and which one comes out to moan.
This week has been an incredible learning experience. I got in touch with the extreme negativity that can overcome all of us through times of stress and anxiety and with the habits that can form around those feelings. It was also interesting hearing my inner voice turn from words of love, joy, and peace to fear, grief, and anger. What was even more interesting was hearing myself buy into those words and thoughts.
What I have learnt is simple. IT IS ALL ABOUT ME! Self-worship! It's not just about exercise or doing the things you love. It's about setting aside time daily to honour yourself.
How well I look after myself sets up the next moment, the next minute, hour, day, or week. The sun shines the same brightness each day. It is my eyes that determine how bright I see the sun. The world always seem lighter and brighter on the days I honour myself.
When I do not look after myself I set sail on a different course into dark and stormy rain clouds – like those on Sydney Harbour last week when I was out sailing on a friends yacht in the pouring rain!
When we focus on looking after ourselves we can handle the ups and downs and stresses of life more easily. It is so easy to blame circumstances like moving or job stress or our partner or work colleague or children.
When we focus our attention on looking after ourselves our whole world changes. We don't need to change others or even the situation.
How can you relate this to your life? Is it the stress or pressure in your life that is getting you down? Or is it how you are looking after yourself (or not) that is determining how you are viewing and responding to situations in your life?
Tell us what you think in the comments section below.