Workplace mediators require diverse and varied multi-disciplinary skills to effectively resolve workplace conflict. Some of the skills required are unique only to workplace mediation. (They are required over and above standard mediation training). Family mediation has some overlaps 'Äď in terms of characteristics such as ongoing relationships, and trust. There are also distinct differences. This paper identifies 5 key skills for a workplace mediator to resolve workplace conflicts.
1. Leadership model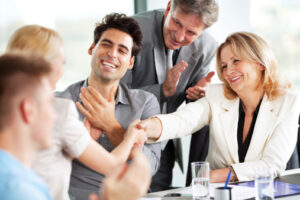 2. Communication model
3. Coaching ability
4. Other-Focus
5. Rebuilding trust
1. LEADERSHIP
Many workplace conflicts involve leadership challenges. In the majority of workplace conflicts at least one party in the mediation process is a leader or manager, supervisor, team leader, or coordinator. Even when one of the parties in the mediation is not a manager, often management or leadership style is mentioned at some point during the mediation process.
There are numerous definitions of leadership. One definition is:
'Äúa process of social influence in which one person can enlist the aid and support of others in the accomplishment of a common task."[i]
Effective leadership or enlisting the support of others requires many skills. Adaptability and flexibility are essential to a leader's success. It is important that leaders are aware of their own natural style, as well as the other styles they have available to them, so they can adapt to the situation and people they are leading.
It is helpful for workplace mediators to understand leadership so that they can help managers who are not so aware and adaptive to be more mindful when leading their teams.
2. COMMUNICATION
Communication under pins all conflict in the form of mis-communication, lack of communication, lack of / or mis-understanding of what was said, lack of / or ineffective learning, and crossed purposes.
Differences in communication style can also lead to conflict through frustrations and mis-understandings of intent and purpose.
Communication 'Äúis a process by which two or more people exchange ideas, facts, feelings or impressions in ways that each gains a common understanding of the message. In essence, it is the act of getting a sender and a receiver tuned together for a particular message or series of messages.'ÄĚ[ii]
There are a number of different models of communication. They can help parties in mediation understand that their style may be different from another persons' style, and this is not necessarily a good or bad thing. Differences in style are just different. They are also very helpful to teams and organisations to ensure diversity, and the ability to achieve different work requirements.
Understanding differences in communication style provides the mediator with the insight and ability to assist parties to see the benefits of difference, and work out ways of adapting to others' styles.
3. COACHING ABILITY
Coaching is a process where a coach works individually with a client to determine the current situation, set goals for the future, and plan ways to meet these goals.
Coaching is very useful in conflict resolution. It can be used to prepare parties for mediation, or instead of mediation. It is extremely effective in assisting parties to shift from narrow thinking to more broad, and open thinking. This allows parties to take in, and consider more information than their initial assumptions, and thoughts, about the situation.
In workplace mediation many disputes require more than simply delivering a workplace mediation process. Coaching can assist in complex, high-level, and long duration conflicts. Coaching can also assist when grievances, bullying claims or Workers' Compensation claims have been lodged.
There are many different coaching models available for mediators to use. The goal with coaching during mediation is to increase self and other awareness, and to increase the likelihood of behavioural change. This in turn increases the likelihood of effective and sustainable outcomes in the mediation process.
4. DEVELOPING AN OTHER-FOCUS
Other-focused thinking, feeling, and behaving is important in conflict resolution regardless of the kind of dispute and the people involved. A successful mediation process requires some level of other-focus. In its most simplistic form, other-focus is perspective-taking. As our skills develop we may display more complex forms of other-focus such as cognitive, emotional, or behavioural empathy, or compassion.
In ongoing relationship disputes such as workplace and family other-focused skills are required at some level to ensure resolutions are sustainable long term. The goal is to resolve the present conflict and ensure the relationships are healed to some degree to facilitate an ongoing relationship of some kind to develop. The goal of the newly formed ongoing relationship is to enable the parties to achieve their goals 'Äď such as a professional working relationship.
One of the tasks of a workplace mediator is to encourage some level of other-focus for a successful process. The level of other-focus depends on the skills and attitudes of the parties.
5. TRUST
Rebuilding trust is an essential skill for workplace mediators to understand in ongoing relationship conflicts where parties are part of a team or work closely together.
Interpersonal trust is complex. It involves at least three aspects:
1) Belief that the other party will act benevolently;
2) Vulnerability that the other person may not fulfill the expectation; and
3) Dependency as the outcomes are influenced by the actions of another.'ÄĚ[iii]
Trust is multi-dimensional[iv] and context dependent.[v] There are a number of different kinds of trust 'Äď Cognition (reputation), Affect (values), Knowledge (reliability), Absolute (unconditional) and Relative (comparison).[vi]
When mediators understand the different forms of trust and the means to assist parties to begin to rebuild trust they help to ensure resolutions are workable and sustainable. Mediators can facilitate the trust building process through facilitating conversations about how the parties will begin rebuilding their trust through mutual understanding of what is required, and how to ensure that the steps are carried out.
Conclusion
The key to high performance workplace mediation is for the mediator to be ever-focused on their own skill development in these five key areas (amongst many others). With each new skill they are better equipped to ensure effective and sustainable resolutions.
If you would like to develop your skills in these areas 'Äď we are offering a 3 day Advanced Workplace Mediation Training Workshop in Canberra on 23-25 July which covers these 5 essentials plus many more!
http://www.mindfulmediation.com.au/workplace-mediation-training/
[i]Chemers, M. (1997). An integrative theory of leadership. Lawrence Erlbaum Associates Publishers.
[ii] Yukl, G. (1998). Leadership in organizations. (4th ed.). Englewood Cliffs:
Prentice Hall.
[iii] Leagans, J. Paul (1961). The Communication Process in Rural Development.
[iv] Whitener, Ellen, Brodt, Susan, Korsgaard, Audrey and Werner, Jon (1998) Managers as Initiators of Trust: An Exchange Relationship Framework for Understanding Managerial Trustworthy Behaviour. Academy of Management Review, 23 (3), pp. 513-530.
[v] Jones, Gareth, & George, Jennifer, (1998). The experience and evolution of trust: Implications for cooperation and teamwork. Academy of Management Review, 23 (3), 531-546; Lewicki, Roy, and Bunker, Barbara Benedict. (1996). 'ÄėDeveloping and Maintaining Trust in Work Relationships.'Äô In Trust in Organizations, Frontiers of Theory and Research, edited by Roderick. M. Kramer, and Tom. R. Tyler, 114'Äď39.Thousand Oaks, Ca: Sage; McAllister, Daniel (1995). Affect- and cognition-based trust as foundations for interpersonal cooperation in organizations. Academy of Management Journal, 38, 24-59; Shapiro, Debra, Sheppard, Blair, and Cheraskin, Lisa. (1992). Business on a Handshake. Negotiation Journal, October: 365'Äď377.
[vi] Bhattacharya, R., Devinney, T. M., & Pillutla, M. M. (1998). A formal model of trust based on outcomes. Academy of Management Review, 23 (3), 459-472
[vii] McAllister, D., (1997). The second face of trust: Reflections on the dark side of interpersonal trust in organizations. In R.J. Lewicki, R.J. Bies, & B.H. Sheppard (Eds.), Research on negotiation in organizations (Vol. 6, pp. 87-111). Greenwich, CT: JAI Press; Lewicki above n 13; Bhattacharya, Rajeev, Devinney, Timothy, & Pillutla, Madan, above n 13.